A donation by the Queensland Friends of the Australian Archaeological Institute in Athens (QFAAIA) has allowed UQ's RD Milns Antiquities Museum to buy a rare Bronze Age chariot figurine from Greece.
The donation was made on the occasion of QFAAIA's 30thAnniversary.
Museum Director Dr Janette McWilliam said the terracotta figurine was a notable artefact for the museum's collection. 
"Everyone who sees it says 'wow', so this is going to be a very exciting addition for us," Dr McWilliam said.
"I want to thank the Queensland Friends very much for the generous donation which enabled this purchase."  
The chariot figure is a highly simplified type produced on the Greek mainland by the Bronze Age Mycenaeans between 1200 and 1050 BC.
"The animals, decorated with stripes, are probably horses or other equids, and are depicted with only one leg each, which is not uncommon for these types of figurines.
"The chariot is depicted only as a tongue of terracotta projecting to the rear of the animals decorated with zigzag stripes, probably approximating reins.
"This type of figurine was probably a votive, or was perhaps even used as a toy: it certainly delights our younger viewers."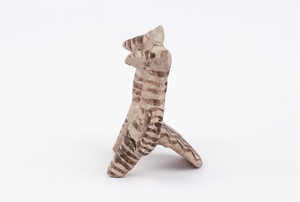 The artefact was purchased from Charles Ede Ltd, London, and was originally in the collection of Professor Dr Günther Marschall (1913-1997) of Hamburg.
He acquired it from a gallery in Cologne in 1973.
QFAAIA President Chris Griffiths said the group hoped the piece would be of interest to future generations.
"There isn't a lot known about it, which is actually good because we specified that we wanted something that could be used as a teaching resource," he said.
"For us it will be great, as more will be revealed as time goes by – it will be a gift that keeps on giving."
The Australian Archaeological Institute in Athens promotes Greek studies and fosters wider Australian involvement with Greek cultural output.
The figure is on display at the Antiquities Museum and can be viewed on Level 2 of UQ's Michie Building (Building 9).
To find out more, visit the Museum's catalogue or call 07 3365 3010.
This article was first published on UQ News on 15 November 2018.