A new exhibition at The University of Queensland's RD Milns Antiquities Museum explores the many faces of the Greek god Dionysos.
According to Dr Janette McWilliam, Museum Director/Senior Curator, Dionysos was more than just a god of wine.
"Dionysos was a god whose character was based on illusion, transformation, ambiguity, impersonation and the coexistence of opposite traits," she said.  
"He was both man and beast, male and effeminate, youthful and mature."
"He offered his ecstatic followers the opportunity to transcend their everyday lives through cult, theatre, the mysteries, and ultimately, the afterlife, but also played a key role in civic cult."
Mr James Donaldson, Senior Museum Officer and Assistant Curator, said that the complex nature of Dionysiac worship is demonstrated by the wide range of artefacts on display in the exhibition.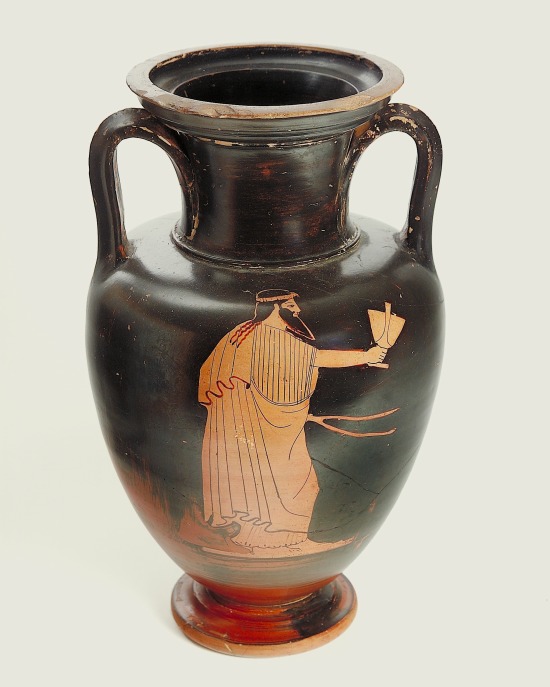 "Symbols relating to Dionysos are some of the most commonly found on works of ancient art," he said.
"One of my favourite works in the show has to be a beautiful early 5th century BC Athenian red-figure amphora (wine container) showing a bearded Dionysos holding a kantharos (cup)."
"We're also lucky to have an oinochoe (wine-jug) from the early 4th century BC with the figure of Dionysos surrounded by a grape vine moulded into the front on loan from the University of Tasmania's John Elliott Classics Museum."
Additional loans were generously provided by the Museum of Antiquities at the University of New England and the Classics Museum at the Australian National University.
Other artefacts on display from the Museum's collection include a pair of fragmentary Athenian drinking cups decorated with mask-like eyes, exhibited for the first time.
Dionysos: Portrait of a God is on show at the RD Milns Antiquities Museum from 29 June 2018 until May 2019.
Media: James Donaldson, j.donaldson@uq.edu.au, +61 7 3365 7490; Rebecca Smith, r.smith20@uq.edu.au, +61 7 3365 3010.